Joan grew up in Northern California by way of Kentucky and West Africa, earning a BA in visual arts at Brown University with coursework at the Rhode Island School of Design. Her postcollegiate comics career started with short stories and illustrations in the pages of Girljock Magazine, Gay Comix and The Advocate.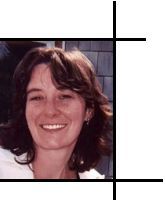 From 1995 to 2010, she was an editor at DC Comics. As editor of the Kids Line, she worked with Warner Bros. and Cartoon Network animators including Bruce Timm, Craig McCracken, and Mo Willems. As a DC Universe and Vertigo editor, she edited major ongoing and limited series including The Flash, Birds of Prey, Batman and the Outsiders, and Swamp Thing, working with top writers and artists including Greg Rucka, Gail Simone, Alex Ross, Jill Thompson, Jose Garcia-Lopez and Brian K. Vaughan. The Vertigo horror anthology Flinch won Best Graphic Story from the International Horror Guild; the miniseries Vixen: Return of the Lion won a Glyph Comics Fan Award.
As a senior editor at the Vertigo imprint, she acquired and edited original graphic novels. Her titles include Cairo, Cuba: My Revolution, Revolver, Bigg Time, and the upcoming Gone to Amerikay and Bad Houses.
Joan's illustrations have appeared in the Village Voice, Ms. Magazine, and Women's Review of Books, among others. To see clips, please stop in at the Gallery. She is also the creator of the weekly comic strip Bitter Girl, distributed by Q Syndicate.
She lives in New York City.